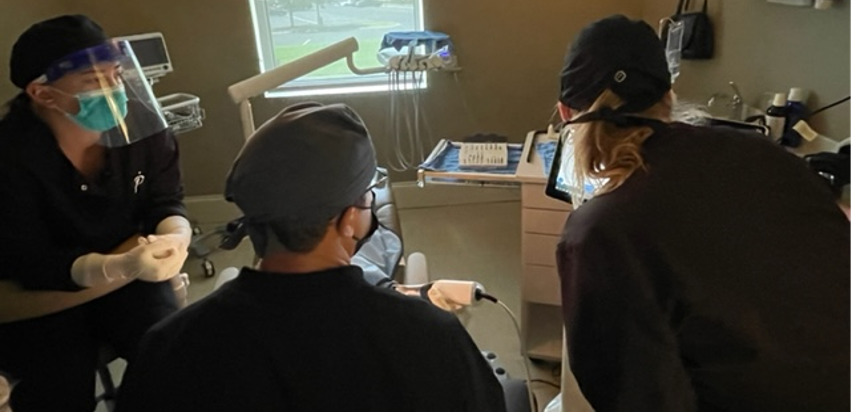 CRO
Contract Research Organization
We dedicate our resources to fund research that helps address the important concerns of our patients and profession.
Welcome to the The McGuire Institute
Full CRO Services
The McGuire Institute offers its expertise in guiding sponsors through the process of taking a new drug or device from conception through FDA approval. We offer a full spectrum of services that help companies improve ROI on innovative products by accelerating time to adoption or alternatively facilitating earlier decisions to abandon a product. iMc accomplishes this using various analytical approaches including identification of the most impactful assessment tools used in product evaluations, expert panel reviews, case studies, pilot studies, and clinical trials. We also have experience in developing interactive AI platforms, Electronic Data Capture (EDC) databases, and Registries that are capable of capturing real world data from our network of Periodontists, General Dentists, Oral Surgeons, and Dental Hygienists.
Full CRO Services
iMc

Capabilities
Start-Up
Create Study Agreement and Budget

Create Country/University/iMc Network Specific Agreement and Budget

Select Vendors

Contract with Vendors

Register study on ClinicalTrials.gov

Update ClinicalTrials.gov

Order/Distribute Study Supplies

Protocol Development

Protocol Review

Informed Consent Form Template Design

Informed Consent Form (Site-Specific) Review

Create Case Report Forms (CRFs) and Source Documents (SDs)

Translations of Study Documents

Review and Finalization of CRFs and Source Documents
Create SIV Training Slides

Conduct SIV (on site)

Conduct SIV (remotely)

Conduct Study Calibration

Set up Trial Master File (TMF) structure (electronic only)

Set up TMF file structure (paper and electronic)

Hold Auditable TMF

Create Study Trackers

Country specific regulatory body submissions/query management

IRB submissions/query management

Prepare/Collect/Review Pre-Study Regulatory Docs

Create Study Plans

Create Manual of Procedures (MOP)

Create and Distribute Regulatory and Subject Binders
Study Conduct
Project Management Oversight

Study Coordination

On-Site Monitoring

Remote Monitoring

Project Management Review of Monitoring documents/reports

Data Entry

Transfer of final data (electronic)

Transfer of final data (paper)

Provide Teleconference Line (Zoom)

Lead Study Team Calls

Lead Investigator Teleconference

Create and Distribute Meeting Agendas and Minutes

Interpreter
Maintain study trackers

Maintain TMF

Transfer of TMF documents to sponsors Cloud

QC TMF

Manage Site and Vendor Payments

Manage Sponsor Invoicing

Manage Safety Spreadsheet

SAE/Device Events Review

SAE/Device Event Reconciliation

Review and Sign Off on Waivers

FDA/Regulatory Bodies Submissions (IFU updates, Device Events, Annual Reports)

Develop Interim Analysis Report

Review Interim Analysis Report
Study Closure
Development and Coding of Final Safety Data

Transfer TMF to Sponsor (electronic)

Transfer TMF to Sponsor (paper)

Develop CSR/CIR

Review of CSR/CIR
Biostatistics
The iMc team will develop statistical analysis plans (SAP) via study design planning, expert consultation, and data monitoring throughout the study to ensure validity of documented data. Extracting the necessary components to chronicle the progress of each subject involves many data points. Analysis of the data and mapping out the results while adhering strictly to all protocols facilitates the generation of statistical tables, figures, and graphs with expert interpretations. The findings and interpretations are then communicated to the medical writers for the purpose of authoring reports, future publications, and presentations.
Clinical Study Reports and Analysis
The regulatory study report is a comprehensive report describing the data and outcomes documented during a clinical study. Our team will develop and review these components to provide clinical study data transparency and facilitate interpretation. Most importantly, this report serves as a reference for authoring publications and presentations that can bridge the translational gap and promote clinical adoption.
Clinical Trial Agreements and Budgets
The clinical trial agreement (CTA) governs the relationship between the sponsor and CRO. Our specialized team is committed to providing you the guidance and day-to-day support needed to meet milestones on time and on budget. We strive to define this relationship in the context of the CTA to harmonize the study budget, protocol, subject informed consent documents, and any other study-related document throughout all stages of a clinical trial.
ClinicalTrials.gov Management
Registering, updating, and providing final data within the ClinicalTrials.gov database for clinical trials in which a sponsor wishes to public the data is within the scope of responsibilities of iMc.
Data Management
The McGuire Institute assures accurate and verified data by employing highly trained data management personnel and sophisticated data management software. Our team understands the need to safeguard data integrity at every step of the research process to ensure that data points are suitable for analysis.
Development of Study Documents
We provide the knowledge and support that is required to best address your specific study goals and objectives. Study document templates, sample forms, and information materials have been developed and tested through the conduction of high-level clinical trials. These tools are utilized and refined during your document development phase to assure that data points collected are accurate and suitable for analysis.
Hosting and Maintaining Databases
iMc has the capability to host and maintain databases such as registries and electronic data capture (EDC) databases, and trial master files (TMF).
Sponsors can be given secure access to study data upon request.
Institutional Review Board Submission and Management
Under FDA regulations, an IRB is a committee of professionals made up of individuals who have training in scientific areas, non-scientific areas, plus members of the community. The IRB approves all research and research documents prior to use, and monitors the progress of the research, with special emphasis on the protection of human participants and safety.
iMc has relationships with multiple central IRBs and also manages local and University IRB submissions. Our average turnaround time for approval of study documents is less than 2 weeks.
Project Management
iMc safeguards data integrity at every step of the research process and will oversee every aspect of a clinical trial from inception to publication collaborating with sponsors, sites, and vendors to coordinate all activities, including training, subject recruitment, and reporting. Investigators are supported throughout all clinical trial phases to complete studies efficiently, while also nurturing relationships with all sites to guarantee quality, on-time deliverables.
Publication Support
iMc ensures the most up-to-date information is represented for complete confidence in your data. Biostatistics play a key role in the planning and preparation of any clinical trial. Our team provides best clinical study design, delivering the relevant statistical input to support scientific writing in preparation of abstracts and manuscripts.
Registries
iMc's registry information repository is an integrated system that improves access, controls costs, and provides researchers an opportunity to share relevant real-world data for publication and future research. The sharing of research results improves overall quality of care across healthcare.
Safety and Medical Monitoring
iMc's Medical Monitor, a Periodontist, has many years of experience with clinical, sponsor, and FDA related safety reporting. Expertise with AEs, SAEs, and coding is available throughout the study.
Selection of Vendors
iMc has an extensive pool of experienced vendors from Data Managers, Statistical Analysts, Graphic Designers, Regulatory Specialists to name a few. All have many years of experience the dental clinical trial arena.
Onsite and Remote Monitoring
iMc uses a combination of onsite and remote monitoring, depending on the clinical trial needs. Monitoring a clinical trial, is to ensure it is conducted, recorded, and reported in compliance with the applicable regulations, Good Clinical Practice (GCP) guidelines, study protocol, IB and/or IFU.
Site Selection
iMc's strong network of clinical investigative sites including Periodontists and Oral Surgeons have been conducting clinical trials for many years. Our agile team of experienced investigators have been personally selected by Dr. McGuire. As they are in private practice, they can often pull from their current patient population to complete enrollment within set timelines.
Technical Writing
iMc provides medical writing support for the full cycle of clinical trial development, beginning with early-stage development. We meet tight timelines, and flexible, efficient processes for any project large or small. Using in-house or sponsor-supplied document templates, we apply best practices for content, format, and style to meet global technical and regulatory requirements. Our expert medical writing team supports the development of regulatory submission documents and clinical trial and program documentation.
Trial Master File
A Trial Master File (TMF) is a compilation of study documents and communications that prove the clinical trial has been conducted following regulatory requirements (including Good Clinical Practice). The TMF plays a crucial role in ensuring the trial has been managed successfully by the Investigator, Sponsor, and CRO. iMc conducts regular quality checks and review processes to ensure the TMF is current, accurate, and all the essential documents are included.
Validated PROs
Validated Patient-Reported Outcomes (PROs) which are defined as "any report of the status of a patient's health condition that comes directly from the patient" are developed for studies to assess a multitude of patient reported datapoints which may include Discomfort, Esthetics, Satisfaction. Some of the benefits of including PROs in a clinical trial may allow improvements for more cost-efficient treatments; enrich understanding of the patient's experiences; degree of subjective symptoms; improve future clinical trial methods. We have experience in study design and methodology to capture meaningful PROs.